Choosing the right theme is crucial for the success of your WooCommerce website. Speed is everything. An optimised, lightweight theme enhances your site's speed and performance, providing a smooth experience for customers. On the other hand, a bloated theme with excessive features can slow down your site and could potentially deter your visitors from coming back. This guide will help you select the best WooCommerce theme by reviewing some popular options. We focus on themes that are fast, flexible, and integrate seamlessly with WooCommerce. A well-designed theme with only essential features is key for a high-converting online store.
GeneratePress
GeneratePress↗︎ is our go-to theme for all types of websites, including WooCommerce ones. The theme is well-developed and maintained and is very flexible. It's also developer-friendly and has an easy-to-use hook system that allows you to extend the theme's functionality with ease.
GeneratePress is a freemium theme. The free version has limitations like basic styling options and limited WooCommerce support but there is no reason why you can not get started for free. It integrates well with WordPress' native block editor and is also compatible with most page builders including Elementor, Beaver Builder, WPBakery and newer builders such as Breakdance and Bricks.
GeneratePress out of the box has a basic design focused on customisability rather than visual appeal. So if you want a good-looking website straight away, GeneratePress may not be the best option. The premium version costs $49.95 for 1 site license or $249 for a lifetime license that extends to 500 websites, which is ideal for freelancers and agencies.
GeneratePress has a site library↗︎ with a few starter eCommerce templates you can use as a starting point to build your store design. GeneratePress Premium adds further WooCommerce options such as layout, colours and the ability to enable/disable WooCommerce elements.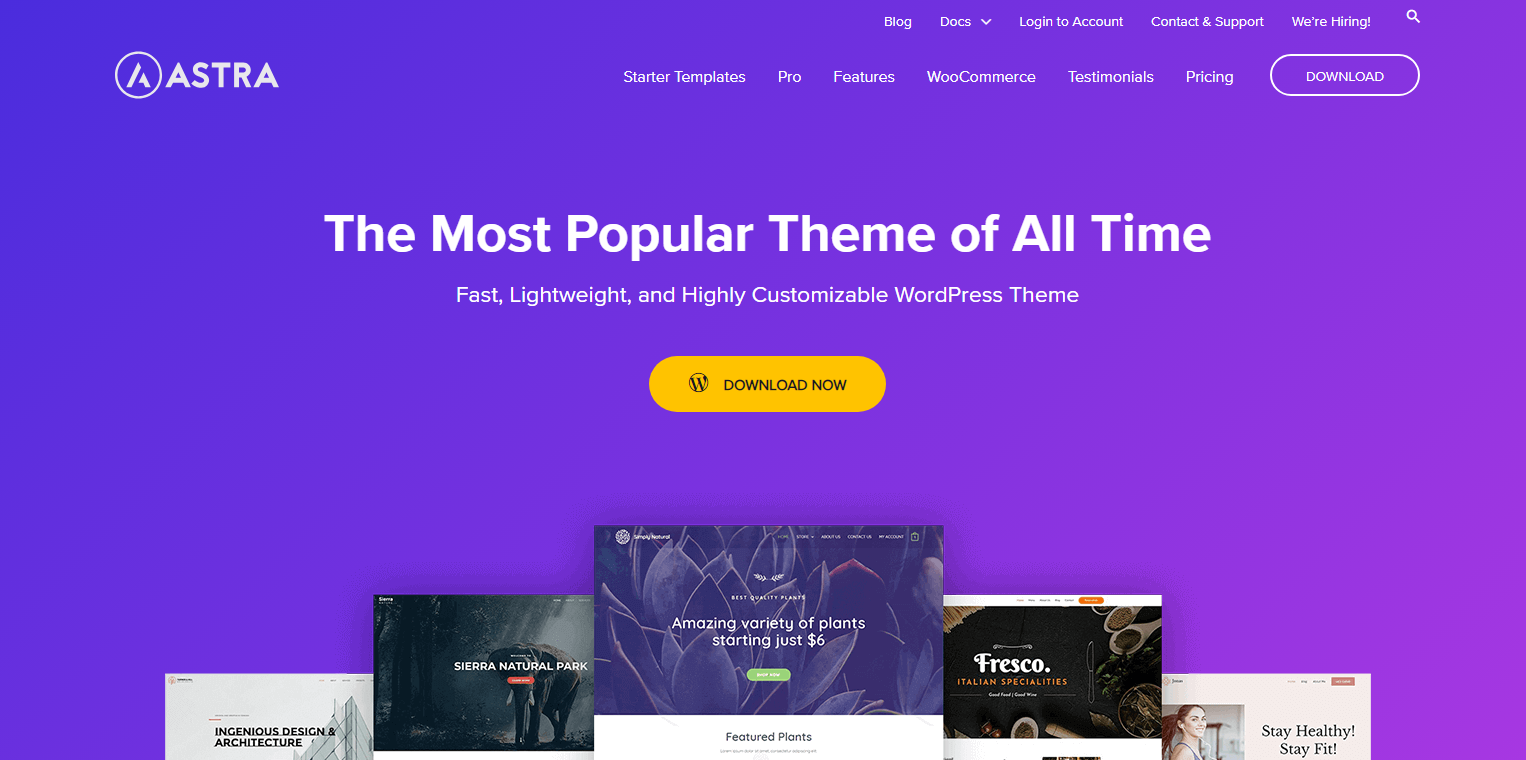 Astra
Astra↗︎ is a WordPress theme that has garnered significant popularity in the WordPress community. Known for its versatility and performance, Astra offers users a robust foundation for creating and customising their websites. One of its notable strengths is its lightweight design, which contributes to faster loading times, a crucial factor in user experience and search engine optimisation.
Astra's flexibility is another key feature. It integrates seamlessly with various page builders such as Elementor, Beaver Builder, and the default Gutenberg editor. This allows users to craft unique and engaging designs without the need for extensive coding knowledge. Additionally, Astra provides a collection of 45+ WooCommerce starter templates covering a wide range of niches and industries. These templates serve as a convenient starting point for users, helping them kickstart their website projects.
Compatibility is another advantage of Astra. It plays nicely with popular WordPress plugins, making it a versatile choice for different types of websites. Whether you're building an e-commerce site with WooCommerce or focusing on SEO with plugins, Astra ensures a smooth integration. Its commitment to accessibility and SEO best practices is evident through features like Schema markup, clean code, and optimized design elements.
Astra offers both a free and a premium (Pro) version, the pro version is priced at $47 per year or $227 for a lifetime license. The Pro version includes additional customisation options and features, catering to users with specific requirements. The theme is actively maintained, ensuring compatibility with the latest WordPress versions and security updates.
StoreFront
Storefront↗︎ is a free WordPress theme designed specifically for WooCommerce. It provides a solid foundation for creating online stores with WordPress. Storefront aims to be a clean, minimalistic, and highly functional theme, tailored to the needs of eCommerce businesses.
One of the primary strengths of Storefront is its seamless integration with WooCommerce. As an official WooCommerce theme, it ensures that your online store will work smoothly and efficiently. This integration allows you to take full advantage of WooCommerce's features, including product listings, shopping carts, and checkout processes, all with a consistent and user-friendly design.
Storefront offers a range of customisation options to help you tailor your online store's appearance to match your brand. While it may not be as feature-rich in terms of customisation as some other themes, it provides enough flexibility to make your store look unique and appealing. You can easily change colours, typography, and layout options through the WordPress Customizer.
Performance is a key consideration for any e-commerce website, and Storefront doesn't disappoint in this regard. It's built with speed and efficiency in mind, ensuring fast loading times for your product pages, which is crucial for retaining visitors and improving search engine rankings.
Moreover, Storefront is designed to be compatible with a variety of WooCommerce extensions and plugins, allowing you to extend the functionality of your online store as needed.
Flatsome
Flatsome↗︎ is a popular WooCommerce ThemeForest theme known for its versatility and extensive set of features, specifically designed to create stunning online stores.
One of the standout features of Flatsome is its comprehensive set of customisation options. Through its built-in theme options panel, you can easily modify colours, fonts, layouts, and other design elements to match your brand and create a unique online shopping experience. The theme also offers a drag-and-drop page builder, which empowers you to create complex layouts without coding skills.
Flatsome prioritises performance and speed, ensuring that your eCommerce website loads quickly. This is crucial for retaining visitors and improving search engine rankings. Additionally, it is optimised for mobile responsiveness, guaranteeing a seamless shopping experience on various devices and screen sizes.
The theme's WooCommerce integration is seamless, allowing you to showcase your products elegantly. Flatsome provides several pre-designed templates and elements tailored for online stores. You can choose from a variety of product page layouts, create custom product grids, and easily set up product categories.
One of Flatsome's distinguishing features is its focus on user experience. It includes a Live Search feature, product quick view, and an intuitive cart dropdown, all aimed at enhancing the overall shopping experience for your customers. These elements can help boost conversions and sales.
Flatsome also supports multi-language and multi-currency options, making it suitable for businesses targeting a global audience. It integrates well with popular eCommerce plugins, payment gateways, and shipping solutions, allowing you to expand your store's functionality as needed.
While Flatsome is a premium theme ($59), it comes with regular updates and dedicated customer support, ensuring you have access to the latest features and assistance when needed.
Hello
Hello Theme↗︎ is a free lightweight and minimalist WordPress theme developed by Elementor. Unlike traditional themes, Hello is designed to work seamlessly with Elementor, providing users with a blank canvas to create highly customised and visually appealing eCommerce websites.
One of Hello Theme's primary purposes is to serve as a foundation for building websites with Elementor. It is incredibly lightweight, which means it loads quickly, contributing to a smooth user experience. Since Hello doesn't include any unnecessary styling or design elements, it offers a clean slate for users to design their websites entirely from scratch using Elementor's drag-and-drop interface.
While Hello Theme doesn't provide a plethora of customisation options in itself, its simplicity allows for complete creative freedom when combined with Elementor. You can customise every aspect of your website's design, including headers, footers, page layouts, product pages, product archives and styling, all within the Elementor editor.
Moreover, Hello Theme is designed to be responsive, ensuring that your website looks and functions well on various devices and screen sizes. It also follows best practices for SEO and performance optimisation, helping your website rank higher in search engine results and load quickly for visitors.
Neve
Neve↗︎ is a versatile multi-purpose WordPress theme that offers a freemium model, meaning it provides both free and premium versions. This theme is known for its flexibility, performance, and extensive feature set, making it an excellent choice for various types of websites, including eCommerce.
The freemium version of Neve provides a solid foundation for creating websites without any cost. It offers a clean and modern design that can be easily customised to match your branding and style preferences. Neve is lightweight, ensuring fast loading times, which is particularly important for eCommerce websites, where speed can significantly impact user experience and conversion rates.
For eCommerce websites, Neve integrates seamlessly with WooCommerce. It provides dedicated WooCommerce features and styling options to help you create appealing product listings, shopping carts, and checkout pages. Neve's eCommerce-focused features and design elements make it a suitable choice for businesses looking to establish a professional and user-friendly online store.
If you choose to upgrade to Neve Pro (€69 per year), you gain access to a wealth of additional features specifically tailored for eCommerce, such as Quick View, Floating Cart, Cart Notices, Wishlist functionality, Catalog Layouts, Off-canvas shop filters, Checkout layouts, and a selection of starter sites. These enhancements can significantly enhance the functionality and aesthetics of your eCommerce website, providing a more seamless shopping experience for your customers.